The cash and check are becoming a thing of the past, as we enter a cashless future. Even more so, as an online business, you want to produce invoices and to make things easier for yourself you can do it with a WordPress Invoice plugin.
Many plugins can be used to make an invoice and keep track of your clients, and as most WordPress plugins, they are offered as free plugins with a more functional premium version which in many cases offers better compatibility for online payment processors.
Here is a selection of the best WordPress plugins that enable you to generate invoices, keep track of your client's payments and run your business more efficiently.
Sprout Invoices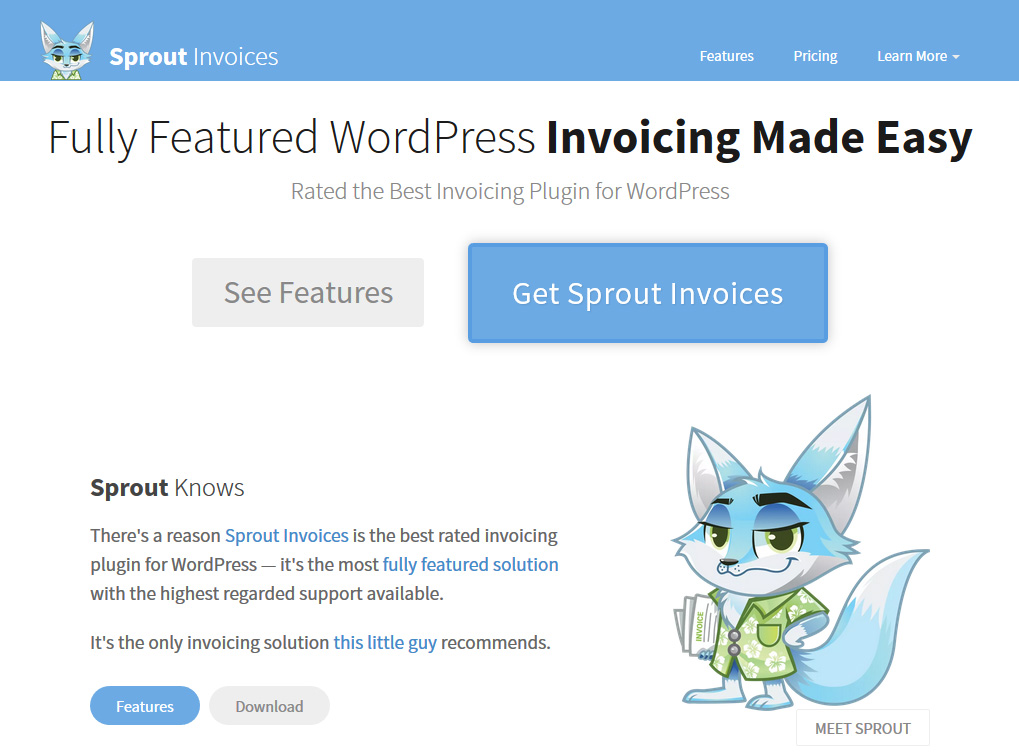 We could say that Sprout Invoices is relatively popular with two thousand WordPress websites using this plugin, and this may be because the website offers intuitive and well-made interface layout.
Sprout can be used to make invoices as well as estimates (quotes) and most importantly, it uses the WordPress dashboard widget for reporting and notification. This plugin will accept PayPal Pro or Standard and offline payments too (cache and check). Extensions can be used for integration with WP Forms, while the plugin will let you use your custom design and logos with nested items.
Premium version will be attractive for those that desire further functionality such as time tracking, recurring payments or subscriptions, deposits, PDF invoices, payment reminder emails, Toggi and Zapier integration, and the ability to accept payment on a broader number of platforms.
Sliced Invoices
An invoice with a significant user base of around five thousand active WordPress websites, Sliced Invoices is a highly rated plugin on the WordPress repository. The free version plugin offers to create invoices and quotes as well as checking up on these to see which have been paid, and which are outstanding, while the reporting is done with a widget on WordPress dashboard.
Higher functionality of the premium version will include PDF quotes and invoices, dedicated client areas, recurring invoicing, deposits, and broader payment options done through extensions. There is no doubt that Sliced Invoices will be able to deliver and satisfy your invoice needs.
WP-Invoice
One of the most popular invoice plugins is the WP-Invoice with over five thousand WordPress websites using the software. It comes with a plethora of functional features such as reports, unlimited invoices, allowance of partial payments, custom logos, and design, and in-depth client management with WP-CRM.
The main feature of the free version is that it can accept payments from PayPal, 2checkout, Stripe, MerchantPlus, and Interkassa, but you will have to get the premium version for quotes, electronic signature, business locations, PDF invoices, and more payment gateways available.
Littlebot Invoices
A relatively new plugin, with only a few years on the market, Littlebot Invoices plugin offers a substantial number of features that can help you and your business. Actually, this plugin functionality is reliant on a plug & play stand-alone application without the need for a third-party plugin for integration.
Besides invoices, Littlebot can be used to create estimates and will accept payments from Stripe as a free service or Plaid if you go that extra mile and get the premium add-on. Littlebot moto is "Getting paid should never slow you down." and we totally agree.
InvoiceXpress for Woocommerce
InvoiceXpress is an online invoicing software approved by the Portuguese Tax and Customs Authority, which can be accessed from anywhere via a browser. InvoiceXpress for Woocommerce will prove to be the best choice with many amazing features if you are using that framework.
Simplistic invoices and documents can be issued through the software while the premium version offers support for three major languages: English, Spanish, and Portuguese, invoice sequencing, priority tech support, delivery notes and more.