Website access level restrictions are most commonly done with a membership plugin, but in this case, we will discuss simpler ways with free plugins that can restrict content access. The reason behind restricting content access can be many, you may want to control what users get exclusive access to, or you may want to drip content over a period of time.
All plugins that we recommend are offered as free versions with WordPressORG so you will be able to test any and choose one that is most to your liking. Like many other plugins, these two may have added functionality with paid or premium.
Restrict Content
The Restrict Content plugin is a free, limited version of the Restrict Content Pro plugin. This free plugin offers relatively simple functionality as you can restrict part of content behind a shortcode, and posts or pages with a meta box.
Premium version will provide added features such as subscriptions, payment, content dripping and it is a reasonable means of monetizing your website content, by charging users for access.
Profile Builder
Profile Builder content restriction enables you to restrict access to individual posts, custom post types or whole pages. It is truly easy to use WordPress plugin with the content restriction being based on the user role.
If a non-authorized user tries to view restricted content, this plugin can help you display a restriction message which will replace said content, or redirect to a defined page.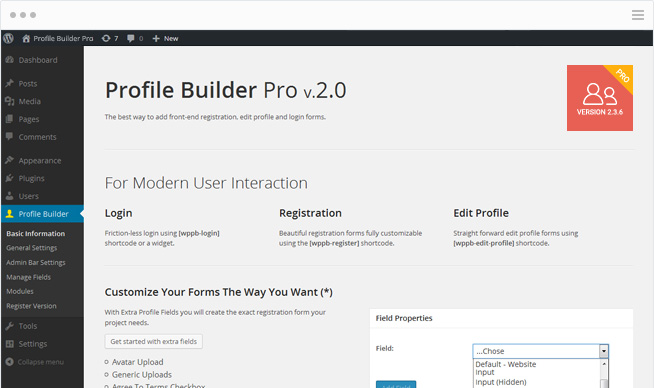 One of the notable features for this plugin is that you can create frontend profiles with its premium version, with detailed member lists.
Paid Member Subscriptions
You will be able to restrict content that can be purchased or accessed with a subscription plan and even only on the basis of being logged-in status, with Paid Membership Subscriptions plugin.
Yes, this is a free membership plugin, but it is truly lightweight compared to paid ones. Similarly to others, it can restrict access to:
Posts
Pages
Forums and topics
Shop pages
Additionally, shortcodes can be used to restrict certain portions of the content. Visitors who try to access restricted content can be shown a message, redirected to a different page, or shown a unique page. Yes, all of this is free.
Is there anything that can be added with a paid version of this plugin? Yes, there is. You can add more monetization options, content dripping, discount codes … and the list does not end there.
Ultimate Member
A very popular option, Ultimate Member can help you create user profiles that are given restricted access to content. Again, shortcodes can be used to restrict certain parts of content, while meta boxes serve as a means to restrict posts and even whole pages.
The free version of this plugin can be configured to show a message, or redirect the user to a different page if a user is trying to view restricted content. Premium version supports additional features such as:
Private messaging between users
Friends
bbPress
… and more.
Restrict User Access
Just as the plugin name implies, Restrict User Access will help you do just that. Very functional with the free version, this plugin will let you create different access levels and specify content to each access level, even if you do not spend any money on them. For example, you could assign an entire post type or category of posts to an access level to restrict all the content inside.
A more specific restrict to some content portions can be achieved with shortcodes. Content dripping is supported, along with the functionality to add new user abilities to existing membership levels, and even user posts. Noteworthy is the integration with bbPress, BuddyPress and WooCommerce.
Conclusion
There is no shortage of functional free content restriction plugins and you should experiment with them a bit to find the one that suits your needs best. It just may be that a free plugin is all you need, and that is the real beauty of the WordPress content management system.
If you really enjoy one, and it does make your website management easier, as well as make a bit of profit from your website monetization, then consider getting the pro version and support the developers.