The average visitor browsing experience with your website may vary, from smooth to a really bumpy ride and even leading to negative user experience if you are using outdated plugins and technologies.
A sure way to avoid this is to follow these steps for a through-and-through optimization of your website.
Regularly update your WordPress, theme, and plugins
Remove plugins and media content that are no longer used
Backup and clean-up your WordPress database
Limit the number of the plugin used with your website
Install a page and media caching plugin
Optimize media usage
Audit website performance
Use a suitable hosting service
If everything is done right, you can expect your search ranking going up a little every day. Having a fast WordPress website is a major part of modern SEO. Let's discuss this a bit more.
Regularly update your WordPress, theme, and plugins
WordPress themes with a multi-functional purpose can be highly helpful while you are developing your website. However, they often burden your website with more code than you may really need to run your website.
Before you invest your time and money into a WordPress theme, make thorough research into theme quality, code update intervals, and customer reviews to gain insight beyond marketing slogans. Consider one of excellent Themify high-quality WordPress themes for optimum website performance.
Remove plugins and media content that are no longer used
Plugins enable additional functionality you may need to improve your website development process. This does not mean you should install a plugin from every single category. Choose your plugins based on their functionality and their impact on the website performance.
Remove plugins that are not used anymore and lighten your website processing requirements. Media content that is no longer used with any page should be removed also. This will consolidate your storage use and improve overall website performance.
Backup and clean-up your WordPress database
No matter how "unlimited" a website hosting plan can be, your WordPress database will become slow over time. This is why you should make a backup at a remote cloud storage location such as Google Drive, and then remove anything you are not using (themes, plugins, pages, posts … etc.)
Limit the number of the plugins used with your website
Again plugins? Yes, the number of plugins you run is crucial to the user experience with your WordPress website. The more plugins, the slower browsing experience becomes. Limit the number of active plugins and make a schedule for backup and virus protection plugins so they run their tasks at low-traffic hours. This will induce minimal performance impact to visitors.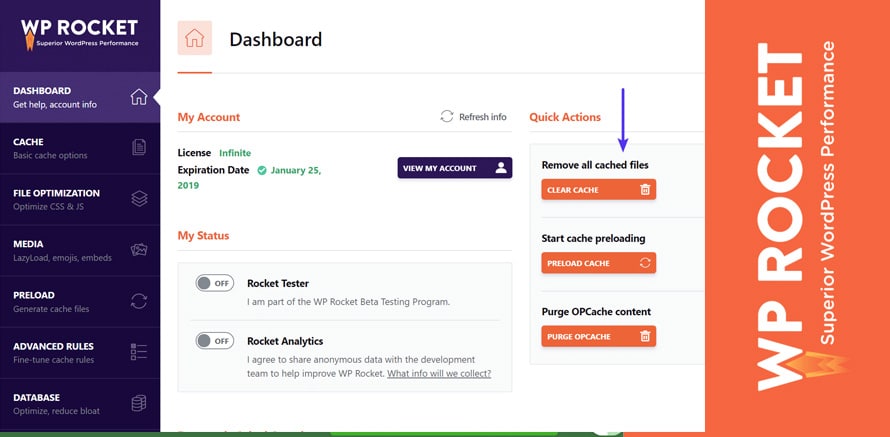 Install a page and media caching plugin
Modern internet website visitors come from all kinds of devices, not just desktop and laptop PC, but mobile devices such as tablets or smartphones. This is why it is important to have a responsive WordPress theme, but additionally, you need a page and media caching plugin that will optimize image and media content based on the specific user. We would recommend WP Rocket plugin.
It will speed-up your customer browsing experience because mobile visitors will receive scaled-down, compressed images, optimized for mobile screens. In addition, this will also decrease your website bandwidth usage and allow your hosting server to keep up with a higher number of visitors.
Optimize media usage
Be mindful of how many images and video media you offer with every page. While a few images will not have a significant impact, a few dozen images will take time to load on just one page.
Optimize and break pages like this into a number of smaller pages and you will increase single-page performance and improve your SEO with user browsing experience all at once.
Audit website performance
Optimized or not, your website should be audited for performance by a third-party source. You may opt to use a paid service or plugin, though a basic check-up can be made using GTmetrix.
Take note that website loading time should be lower than 4 seconds, or else Google will penalize SEO for your website. Other useful data includes image scaling and the amount of data it would save, as well as JavaScript, HTML, CSS and other optimizations.
Use a suitable hosting service
Last but not least, it just may happen that your website is optimized and running optimally but your hosting service is lacking.
This problem can be solved only by moving your website to another host that can guarantee higher performance level. The decision to move to more reliable hosting is yours to make.
To conclude, I am sure you can apply at least a few of these steps, if not all, to your website optimization. Do not hesitate to improve your SEO and user browsing experience as it will increase your website generated leads, conversion, and profit.