Using WordPress you can create a website presence for your company or product without coding knowledge and previous website building experience, it's that easy.

WordPress is the most popular content management system, and it is a great choice if you are a beginner. Although it may be your first website, it will be flexible, functional and looking stunning because easy-to-use WordPress themes and plugins make it so.

Why you should choose WordPress for your first website?

WordPress is not the only option for a modern website builder, but every platform has its own advantages and before we continue I would like to mention some of them:
WordPress is the most popular CMS with roughly 33% of all websites on the Internet
It is the most affordable option, actually, you do not have to pay anything to use WordPress.
You can choose free themes and plugins that you will be using without ever paying anything, or you can purchase a theme of your choice for additional functionality, it is all up to you.
You do not need to know any coding to make use of WordPress.

How to create the actual website?

Yes, WordPress is free, but before we can start making your first website you will have to purchase a domain name and website hosting. Every single website needs those.

The choice of a domain name and hosting company is a topic for another guide, so for the purpose of this article we will assume you already have a domain name and you want to purchase hosting services from SiteGround, a renown hosting company recommended by WordPress.ORG.
We can note that SiteGround offers WordPress hosting in three tiers, while you can choose any of them to your best liking, but for the purpose of this article, we will recommend StartUp plan which offers all of the essential services needed to get your website up-and-running.

StartUp plan will include one free domain registration, exactly what you need if you did not already get a domain name from a third party. You will be entering your account and billing information for the purchase process to finish.

Next, you will install WordPress onto your newly purchased hosting. This is done through an account setup wizard which will pop-up the first time you log in to your hosting account. Simply choose WordPress as the software to install by clicking ok the icon.

Add a WordPress theme

WordPress website theme is responsible for the websites visual presentation. Depending on your specific needs and preferences, you can add a WordPress theme of your choice.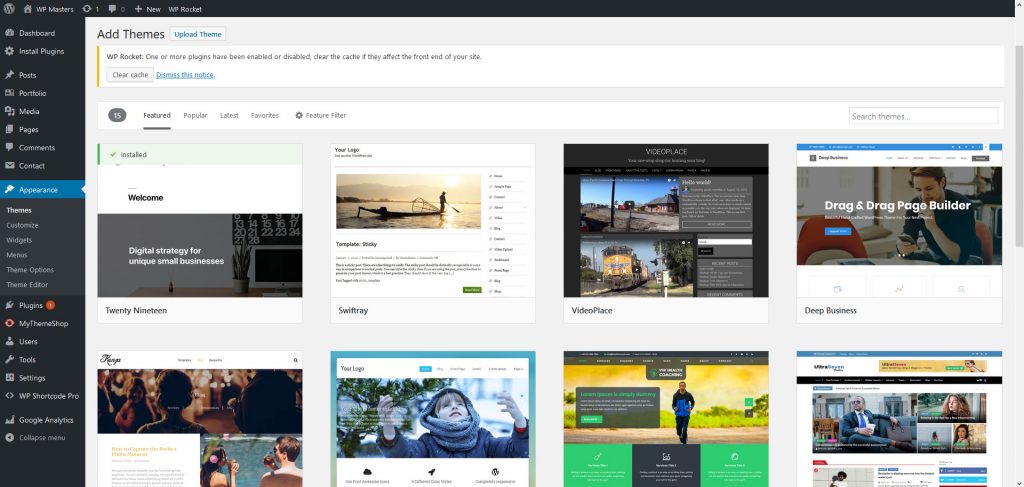 After adding the theme you will have to activate it, and then you can modify different aspects of the theme using Appearance section in the WordPress dashboard.

Most notable are the Customize and Theme Options menus which will help you customize the color scheme, logo and other elements of the WordPress theme. Add your personal touch so that it looks unique and different. All of the controls are human-friendly and provide a preview of your website.

Extended functionality of the website with plugins

One of the reasons WordPress enjoys such a large audience is the extended functionality provided by plugins. Essentially, there is no limit to the number of plugins you can add to your website, though again, you should try to limit them to a certain number so that your website does not become unresponsive due to plugin scripts, or take too long to respond to user input.
Depending on the type of website you are making, you may choose WoCommerce or another e-commerce plugin, contact form plugin, security, SEO, social media … etc. Within every plugin category, there will be at least a dozen plugins from different developers, with user reviews and ratings. Some will be totally free, others will be paid only, and some will be "freemium" meaning they are free but some additional functionality is provided with purchase.

Plugins are easily installed by adding and activating and just as easily removed. Feel free to experiment with them and find ones that are best to your liking.

Adding website content

The last step is the one that is never really done, and that is adding website content. The reason I say it is never done is that you should work on your website content continuously. Adding fresh and new content at regular intervals is an important part of website SEO as search engines prefer websites with up-to-date content that is relevant and engaging.

Using Pages menu you will be adding pages, and then by editing them individually, you will add image, text, and media to the pages. You will be adding website content to the pages in the default WordPress editor or the Gutenberg editor if you prefer the new content-block style editor. The choice is yours. Adding content to WordPress is intuitive and easy with visual elements and fields that need to be filled with information. Once you are satisfied with a page you can use Preview to take a look at how it will be presented, or Publish to make it available for website visitors.

Conclusion and Tips

By now, your website is a working presentation of your product or company, ready for the intrepid visitor to arrive and engage its content. Further developing your website means adding content, working on search engine optimization (SEO), driving traffic to your website using other channels such as social media and relevant online communities… etc.

Once you have become comfortable with the basic functionality of your website, we would recommend that you read our articles about website management, SEO and user browsing experience optimization.