Fast internet is available in most countries and the average internet user's attention span is very low, which means that your WordPress blog has about under one second to leave a good impression on your visitor before he starts thinking about staying or leaving.
What this means is that your WordPress blog needs to be attractive, with an appealing color scheme, clear page content structure, and readable fonts (text) to give a good first impression, but that is not a job well done.
For your blog site to be successful you need to provide creative and unique content coupled with that sleek visual appearance to stand out from the crowd.
People that launch blogs but do not get the traction they deserve, in most cases, because they've left their site visual design with something to be desired.
The harsh truth is that if your blog looks like trash, people will assume the content is the same. Let's discuss how your blog can inspire awe with its visitors.
How to make your WordPress blog visually appealing
First, we have to agree that we want to use every web design trick possible to make your blog set apart from others – color, visuals, themes… etc.
Only by creating a strong visual identity will you make your blog more memorable, and gain returning visitors.
Best tips to improve your blog design fast
The main goal we want to achieve for your site is for posts to look good so people are enchanted with content and keep on browsing. This does not mean you should pack 5 posts with 20 images on one page, but quite the opposite.
Our number one tip is to keep your post structure clean, clear, and readable. A clear structure means you have only one large, or a few smaller posts with one page.
Every post must be provided with a title and headings so that visitors have no problem navigating through posts and finding the desired content.
Having large (endless) text blocks is not a good way to structure your content. Instead, break them into smaller ones and use subheadings
Ultimately, minimalistic design with plenty of white spaces complements the content, giving it a clean design. The total number of images in a post can be a minimum of one for the header of the post and it can still be a great post in the eyes of visitors.
Keep in mind that widgets, ads, and popups are not what your visitors are looking for, so have them at the bare minimum. The last thing you want is visitors leaving because of too many pop-ups.
Take design inspiration from a popular blog in your business niche
If a well-established and renowned blog is doing good with certain site design and content structure, then that may be good for your site too.
Admittedly, established blogs may be using a custom design that is out of your budget, and that is the reason why we would recommend the Envato Neve (with Elementor integrated) or Themify Simple free themes as your first choice for a slim, minimalistic and clear blog design.
Besides these two there are other amazing and free WordPress blog site themes, so do not be afraid to experiment and achieve the look that inspires you the most, because many modern WordPress themes are highly customizable.
Simple and memorable logo for your WordPress blog
Just like any other real-world business, a simple and memorable logo is needed for your blog too, as it will represent what you stand for.
Modern online services offer free logo makers, such as Namecheap's Free Logo Maker where you can make a sleek and professional logo in a very short time, by adding your business name and choosing one of the premade logos.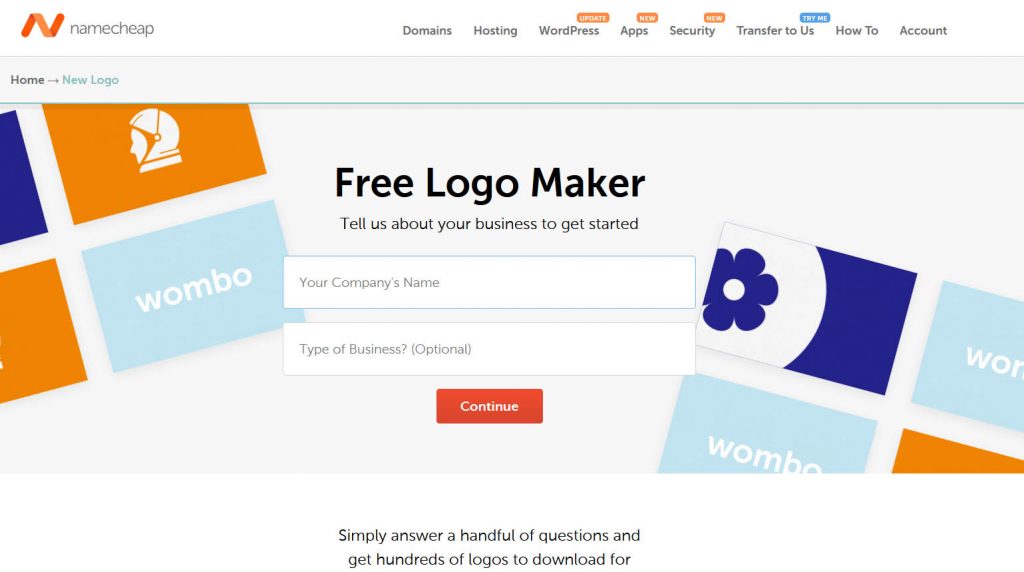 High-quality images and graphics help increase WordPress blog visual appeal
We have to acknowledge that in 2020 even the cheap smartphones make amazing images, and this surge in high-quality images has free stock image websites popping up from nowhere. What this means is that you can get royalty-free images from such sites. for your blog.
The two that are currently very popular and we want to recommend them are Unsplash and Pexels.
Next, for some posts to make them more appealing you will rather need some fancy graphics or infographics, and again, we have a recommendation with Canva.
With Canva you can create beautiful graphics or infographics, easily and for free. It allows you to create graphics for social media, posters, logos, and more, in a very beginner-friendly drag and drop format.
Conclusion
Having you here means that you have read through the whole article, and even if you have a great WordPress blog I would imagine that you found at least a few tips that can help you make it into an amazing site.
Keep in mind that WordPress is a constantly evolving platform with an amazing number of free themes and plugins, and you may be a step away from transforming your blog into something really awesome.