Not only website growth is significantly increased with guest blogging, but examples are also everywhere – content creators join forces in order to retain and gain a new audience. For website owners specifically, we will be guest blogging and link building.
Some experts deem these techniques are lacking, but when done properly they will provide a positive boost to your online presence.
As a busy website owner and/or content creator you may be having a hard time to finish all the content projects for your website alone, so guest blogging may incur overtime work in order to publish content on other websites which is the main drawback. If you can overcome this issue then the benefits you can reap are significant.
Why Guest Blogging?
Guest blogging is not a new SEO technique, in fact, it is a mainstay for large companies which commonly invite partners to author posts and/or add links to their websites.
Content published with the other website will give you the opportunity to add a link to your website which will have a positive effect on your website domain authority, especially websites that are relevant to your business niche will "spill-over" some of their strong domain authority to you. As a general rule of thumb, you are who you keep company with.
Even though both yours and the website you are aiming to guest post with are in the same business niche, you will both have benefits, but at the moment I want to point out a few major ones:
Increased online exposure. You will receive increased online exposure as more web users will read your content than if you were publishing solely on your website.
Increased traffic to your site. The link that you provided will lead the other website readers to your website, hence increasing your website traffic.
Useful business contacts. Entering a guest blogging agreement, you will make a partnership with influential companies in the business or gain access to a niche contributors community, exchange knowledge and resources.
Increased profits. Your guest posts published on popular online platforms will lead to increased profit on your website.
Considering all these benefits, by now, you should definitely want to guest post but you may be asking yourself how, and we want to help you by offering steps needed.
Successful guest blogging
Your guest blogging will have a website growth impact proportional to a number of factors that define a well planned and conducted strategy, and I would suggest that you make a checklist and follow these steps.
Use Google search to find websites relevant to your business niche that welcome and accept guest posting.
Make an overview list of their current guest bloggers, search for those that are stronger influences, analyze their posts strength and weakness.
Refine and reduce the guest posting list to a smaller number of websites which you will be able to cooperate while excluding websites with a low or medium domain authority or overall low quality of content that does not attract the wanted level of traffic.
Take time to brainstorm trendy, hot topics for your guest posting by tracking important events and innovative ideas. Produce posts that are aimed at both the beginner and pro users with relevant solutions to burning questions.
Contact administrators of the selected websites/blogs and be prepared to wait for a response. Keep in mind that other bloggers are only human too and if it is a large and well-known platform they probably receive such offers on a daily basis which means it will take time to build a good relationship with such influential contributors.
Offer a number of few interesting guest post ideas, with reference to their own material and indicate where you think your content may be best placed, as you will point that you are well acquainted with their website.
In order to get noticed by influential content creators be active with their social networks, comment on their posts, photos, and other content. Be original and straightforward about your intent.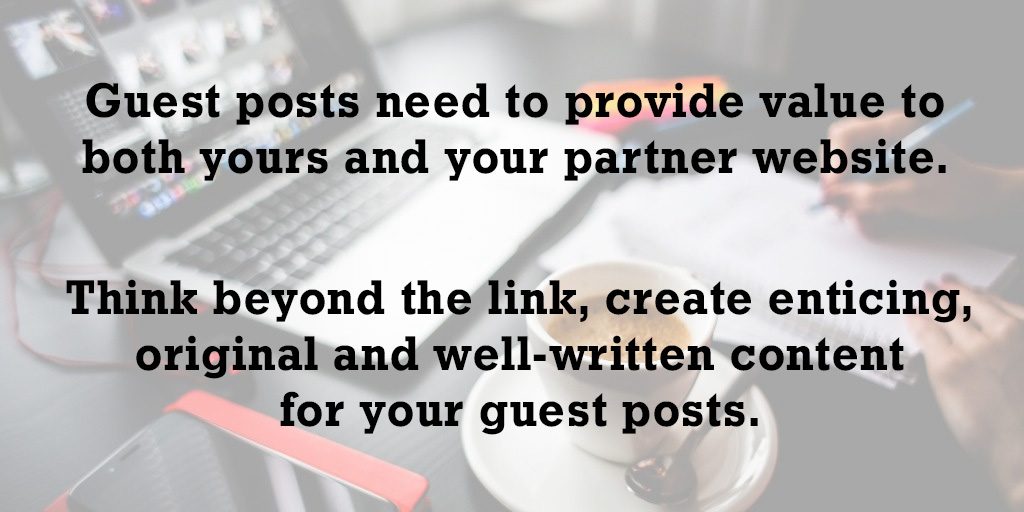 Now that you are approved as a guest blogger, you will start writing content for your new partners, and again, I would note a few things you should keep in mind:
Content produced for partner website should adhere to their blogging rules and guidelines to avoid conflict with content admins. Make sure you know and apply these rules.
If possible, do not post an article the same moment you have finished it, but instead, let your head cool down and later take a look at it with a fresh "pair of eyes" and make sure it is reader-proof with no grammar or spelling errors.
Link or links to your website content should be "natural", perfectly matching the organic flow of the content written, and if you are not sure about them then consult your partner website admin if they agree.
The content written for your partner website must provide direct content value to them, while it certainly will take a bit of time for it to have an impact on your website growth. High content quality will benefit you both and will lead you to greater success as a guest blogger, as you will be able to refer to your personal guest posts.
Conclusion
Guest bloggers publish creative and original content on partner websites, which is welcomed because of the high content quality level as well as for content diversification.
Quality guest posting is a sure way to add a robust traffic influx to your website, promote your online presence and consequently increase your own business profit and following this guide will set you on the road to guest posting success.