Having a book in your hand and looking at it you know it is real. You can touch the texture of the cover material as well as have that feeling of owning a physical thing. Put it on a shelf and there it is, patiently waiting for you to pick it up and read it. Same can not be said for your WordPress website.
You can not hold it in your hand, but instead, you need a device connected to the internet to display it, and a hosting server behind it to transfer the content to display device. Even then you know that it is stored on a remote device somewhere far away, and not on your office shelf.
Yes, hosting companies which own data centers have data-loss protection and it is not a common thing to lose website data, but still, it would not hurt to have a protection plan of your own. Actually, there are a few ways to have a clone copy of your website which you can use to recoup from a data-loss, and some are relatively fast.
WordPress website clone copying
The most gruesome and nerve-wracking way to make a clone copy is by doing it manually using a suitable FTP client and File Transfer Protocol. What you need to do is use the FTP client to connect to your website server, locate the WordPress folder and copy them to a local or online store.
Bear in mind that you need to copy hidden files too (system files, archive files … etc.). This is the main drawback to manually copying, as you may overlook an important file. A manual copy can be used to make a clone staging site where you are free to experiment with no consequence to the main website.
WordPress Duplicator plugin
Definitely, a more popular method is by using a plugin to do all the heavy lifting and provide additional functionality and choice. Duplicator is one such cloning and copying plugin and the process is relatively easy and straightforward.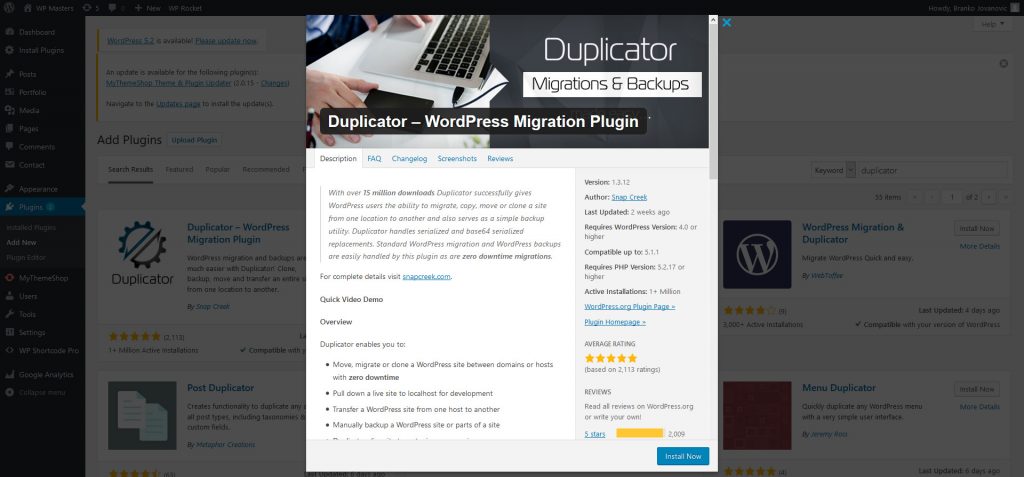 Go to Duplicator > Packages in your WordPress dashboard, and click Create New. Type-in the name for the clone file and choose a location to store it. After the scan is finished, click the Build button. Download the .zip archive with your website clone copy, which again, you can use to upload to another desired server, or keep it with you on a local storage device.
Why do I need a complete copy of my website?
The most obvious reason why would you want to have a complete clone copy of your website is to protect yourself from hosting data loss, but that is not the only reason.
If you would ever experiment with WordPress plugins which would make irreparable changes to your website, a clone copy is an ideal way to restore your website to full functionality. Other website management tasks are safer when you have a handy website copy, from moving your website to a new server, to changing your domain name or setting up a staging site where you can experiment freely.
Protection your domain name ownership
In the very unlikely case that your hosting or domain registrar company suffers an ownership data loss, there is one sure way to keep ownership over your website domain name. However, this method requires that you do not submit your domain name for a Privacy Protection Service with your hosting company.
A new domain name that is registered or transferred to a new owner, the owner's name is entered into the WHOIS database, per ICANN instructions. Consequently, the one that is entered in this database is regarded as the owner by ICANN.
When a customer applies for Privacy Protection, the hosting company will "mask" the owner under their name, and enter their information into WHOIS for identity protection purposes. Consequently, the hosting company is the owner of the domain name in the eyes of ICANN.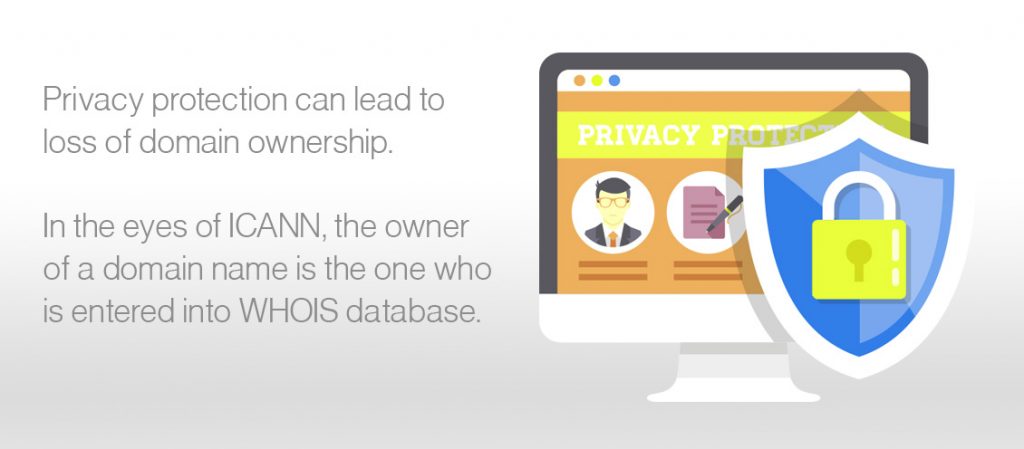 This is why you should NOT opt for Privacy Protection, but instead make sure your company information is entered into the WHOIS database. This way you will protect your domain name ownership even if hosting or domain registrar company suffers a data loss.
On a side note, you will be protecting your domain name ownership by renewing your domain registration regularly. Do not let it slip your mind and miss renewal as it will be snagged by a reseller and you may end up paying dearly and much more than the renewal price.
After a while, your website domain name is recognized as a part of your company branding and identity. This is the main reason you may choose to register it as a trademark, and further secure your domain name ownership. Furthermore, especially western countries consider trademark infringement a serious legal issue so you can be sure anyone that may be trying to snag your domain will think twice before doing so.
Conclusion
The main purpose of this article is not to instill fear of data loss, but to warn you of a possible issue and prepare you for the worst-case scenario. Following these instructions, you will be able to rectify a website disaster, easily and promptly.