The WordPress release schedule is poised with a new one with March 31st 2020 with a final list of new features within the release candidate.
Considering this, we can provide insight into these new features and changes with a number of our own tips and suggestions.
Which features and changes are slated WordPress 5.4
The WordPress 5.4 update packs a ton of new features, improvements and bug fixes largely catered toward the block editor, additionally integrating a number of Gutenberg plugins into its core.
Besides the block editor, the Site Health Tool and REST API are also improved, while we won't be discussing any delayed features which will be included in the later 5.5 update.
WordPress Block Editor new features and improvements
The Gutenberg plugin versions are integrated directly into the core, meaning you will find many new features, enhancements and bug fixes in the block editor with 5.4 update.
Initial reports convey significant performance improvement with loading time reduction and time-to-type reduction, especially with large posts, when compared to version 5.3.
The most notable Block Editor features and enhancements are:
New social icons block
New buttons block
A welcome guide modal
Fullscreen mode enabled by default
Color adjustment option for Text Color in Rich Text Block and several other blocks
New Breadcrumbs Bar for improved block navigation
Let's take a look into these features individually.
New, fashionable Social Icons Block
Previously known as Social Links, the new Social Icons block provides a quick and easy way to add links to your social media presence. In this release we can confirm that the block is now released as a stable solution.
The Social Icons block is provided with three premade styles for your visual customizations: Default, Logos only, and Pill shape.
Be aware that this block was originally introduced with Gutenberg 6.5 and may not work correctly with an outdated version, so we would like to suggest using 7.5 or later version.
New Buttons Block
First introduced with Gutenber 7.2, the Buttons block replaces the "single Button block" and allows adding more buttons within one block container.

The two preset styles can be adjusted with additional options to provide a more unique appearance for your buttons.
The expected update 5.4 includes additional control settings for Buttons Block with gradient backgrounds and several presets which can be adjusted to your liking.
Improved Welcome Guide Modal feature
The Improved Welcome Guide Modal catters to new and returning users with need for some basic information about how the block editor works, with link to additional online documentation.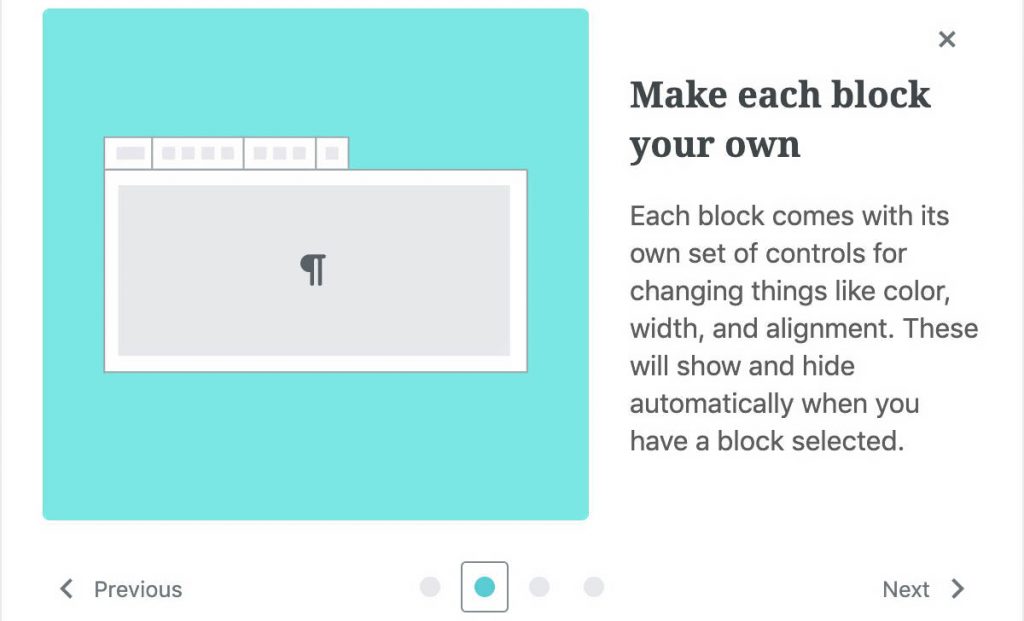 Take note that this Modal will appear only with the first run of the updated WordPress 5.4 and if you need it again you will have to look for it manually in the More tools & options menu.
Editor fullscreen mode enabled by default
If you have deployed a fresh WordPress 5.4 or access it through a new device the editor will display in a fullscreen mode by default, while you can toggle it ON and OFF tools & options menu.
Because this feature is device dependent, it is stored only locally, while a future update may enter it into the database, making the user choice persistent in any context.
Arguably, having the editor in fullscreen mode by default is not that  appreciated among the WordPress community as it is considered to be potentially confusing for beginners and non-advanced users.
Color adjustment option for Text Color in Rich Text Block and several other blocks feature
Writers of long-form posts will appreciate additional text color adjustments made available in the rich Text Block, which until now had to be hardcoded in HTML mode even for single words or strings.
Several other blocks have received color-related enhancements including:
Gradient background for Button block
Gradient background for Cover block
Text color support for Group blocks
Text and background color support for Columns block
A new Breadcrumb Bar feature for Block Navigation
Available since the Gutenberg 6.7, and now included with the WordPress core, this new breadcrumb bar makes it easier to navigate blocks.
Conclusion
We can conclude that these new features, changes and improvements are welcome additions as they improve the WordPress functionalities and the UI, by improving the editor's accessibility and usability and the overall editing experience in general.