You have a WordPress website with more than enough content, but your visitors bounce very often and you cannot nail what is the cause of it.
What this means is that a certain number of your visitors are single-hit sessions. The user came to your website, did not make a meaningful interaction, and left.
Truth is the most common reason people will bounce from your website is that the information you are providing isn't exactly what the reader is looking for, but not the only reason. Here are some of them.
Page or website loading speed
A user typed your website and it takes half a minute to load. Not good. If they are accessing the website from a mobile device, chances are they will swipe to another app while waiting, and that other app gets their attention and focus, and they forget about your website in the browser.
A desktop user will close the window, thinking there is some problem with the internet, after a website does not load for 30 seconds. If everything is fine with your website, then the reason for the very slow loading speed may be your hosting choice.
Website loading speed is now a metric for SEO and Google is penalizing search ranking for websites which load longer than 4 seconds. Make sure your website is running a fast WordPress theme, with optimized content that does not downgrade your website loading speed.
Image caching and CDN plugins can provide substantial improvements to this metric if you are not in a position to optimize images manually or do not have time to do it.

Incorrect or bad marketing
A visitor came through a link from another website, with an offer for a promotion or a discount. The promo offer on your website does not match the link promo content, so the user is disappointed and bounces. Make sure that your external links lead to the same content and offers.
Modern internet user is always looking for an affordable offer, and if your marketing is inconsistent or misleading then you will lose conversion.
Spammy pop-ups and banners

Let the user enjoy your website. Do not ruin their browsing experience by spamming intrusive advertisements. It may happen that a user loves going to a page from your website, but as soon as he arrives your website "greets" him with an annoying pop-up quiz, and suddenly they will bounce.
Oversized, distracting banner ads can have a negative impact on your visitors browsing experience as they will distract them from the website content and reduce the trust your visitors feel.
Adding such ads or pop-ups frequently will reduce and diminish the value of your content with the website visitors. Make sure your ads and calls to action are not getting in the way of content and user browsing experience.

Website layout

You will probably laugh when I say the users will bounce when they see a lot of content because they are overwhelmed. Yes, your content may be very good and relevant, but the website layout makes it look "ugly".
This one is actually easy, all you have to do is get a good WordPress website theme with nice premade website layouts.
It is important to note that your responsive website design should adjust content presentation with regards to the individual user with the device used to view the website. Desktop users may fair better with a website content organized in wide pages, while mobile users prefer websites with vertical "infinite" scroll.
Limit the use of javascript and other scripts for visual effects
Adding too many scripts that enhance your website with fancy visual effects will be additional work for your visitor browser, and they too need to be downloaded first which means they increase loading times.
This can be a big problem if your visitors come from mobile devices and/or use dated devices with under average computing performance. Avoid every unnecessary script, visual effects are not what your visitors come for.
Content relevance and keeping the audience interested
Understandably, your website content must be relevant. Visitors come, suddenly they see something very unexpected and unrelated – they will bounce. Posts should contain headlines and subheadings that will help visitors keep interested with content and find what they are looking for. Provide links to other relevant posts and content on your website to keep the visitor engaged.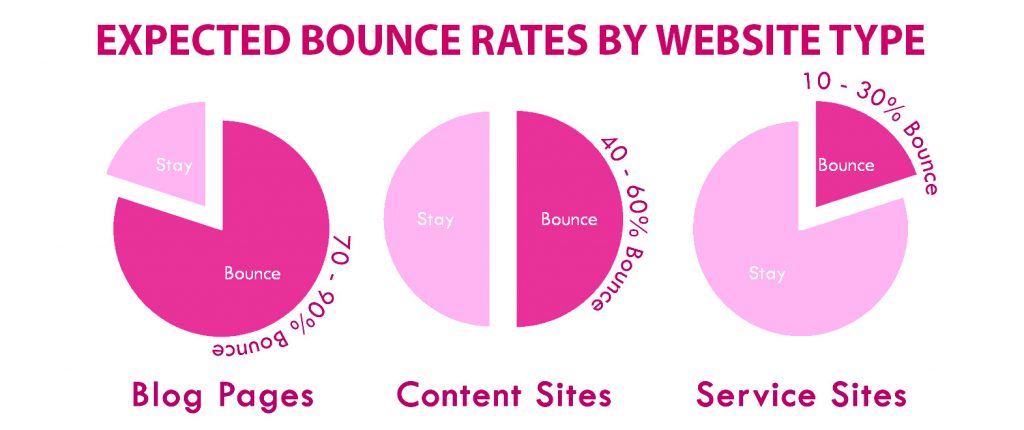 Conclusion
Some webmasters would not agree that bounce rates can be measured correctly. What of people who come to your website just to get your phone number and call you, then they bounce? They say bounce rate is a vanity metric.
Others take bounce rates seriously as it is used by Google to rank pages, along with time spent on page. All will agree that it is important to give a reason to your visitors to stay and visit more than one page, and it will decrease the bounce rate.
Follow our guide and make improvements, and I am sure you will decrease your website bounce rate.