There is no doubt that it is a huge success, but the update to WordPress 5.5 had an unexpected result for many WordPress users. Causing their sites to break, the negative effects of WordPress 5.5 were felt across millions of sites, a truly staggering event.
The later announcement about what exactly went wrong provided a link to a spreadsheet listing hundreds of plugins and themes that were affected.
Now, WordPress is releasing a maintenance update version 5.5.1 which is aimed as a patch to provide time for plugin and theme developers to update their software.
WordPress update 5.5.1
Namely, the WordPress 5.5.1 maintenance release is designed to help stop sites from breaking, though the errors will need to be fixed, meaning that it adds a backfill for the globals (JavaScript objects which were removed) so they no longer cause JavaScript errors.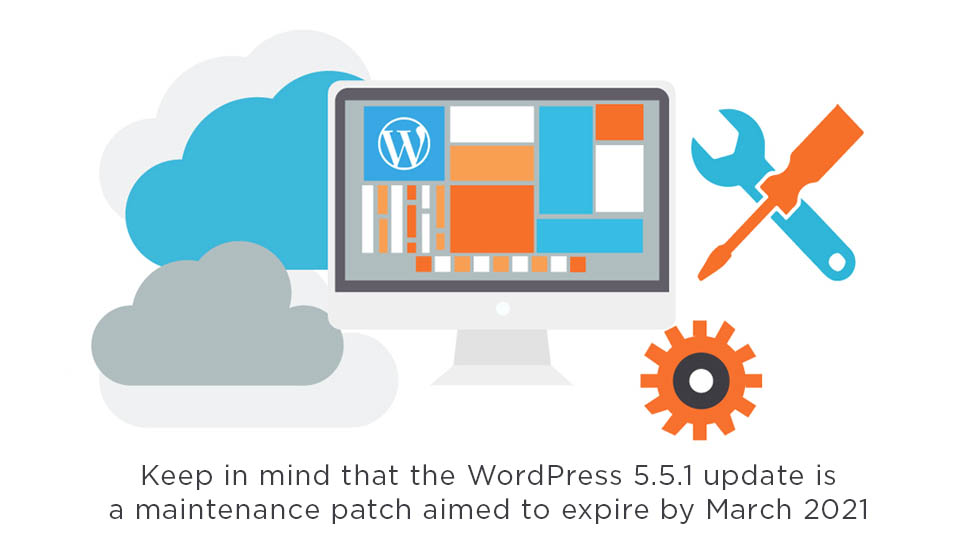 In fact, this update will alleviate issues for sites only temporary, while plugin and theme developers have until March 2021 to provide a patch so that the next update will not result in another round of broken websites.
Developers are doing their diligent work to fix plugins and themes
Some of the broken plugins with more than a millions of users are:
SiteOrigin Widgets Bundle
Advanced Custom Fields
Ninja Forms Contact Form – The Drag and Drop Form Builder for WordPress
Other popular plugins that are affected by this issue of users are:
WordPress Gallery Plugin – NextGEN Gallery
Polylang
Child Theme Configurator
Simple Custom CSS and JS
WordPress SEO Plugin Rank Math
… etc.
When talking about popular WordPress themes, this issue has affected:
Astra
Hestia
Storefront
Neve
… etc.
Indeed, some of the affected plugins and themes have already been patched and fixed.
What can you expect when you update to WordPress 5.5.1
While this maintenance update is designed to patch a wide range of bugs that were discovered after 5.5 was released, please note that it is a temporary fix.
For those that rolled back their sites to a previous version of WordPress because 5.5 was breaking their sites, this is the version that should be downloaded as the issues that were discovered have been fixed now.
Conclusion and last thoughts
Knowing that the update will take you only so far as March next year, leaving you with a bit more than half a year's time, you should aim to get an update from your plugin or theme supplier, or else, find and replace the broken plugin or theme with another and ovoid the issue of broken sites.
Either way, a direct solution for the issues that have risen with WordPress 5.5 must be provided before March 2021 or you will be, again, facing issues with a dysfunctional website.